Happy International Women's Day, everyone! In honor of the day, we here at BtT are excited to celebrate some of our favorite women working in anime, manga, and light novels. We're also joined by our friend Atelier Gokujou, who shares a few faves with us from the perspective of a professional anime artist.
From the mangaka and light novelists who create the stories and characters we love, to the directors and screenwriters who bring them to life on the screen and also conceive original works of their own, to the composers who pull on our heartstrings and set our spirits soaring—here are a few of the women whose work has touched our lives!
Directors • Mangaka • Light Novelists • Screenwriters • Composers
Kozue Amano • Asato Asato • CLAMP • Posuka Demizu • Yoko Hatta • Atsuko Ishizuka • Yuki Kajiura • Yoko Kamio • Yoko Kanno • Kazue Kato • Miya Kazuki • Mari Okada • Komome Shirahama • Rumiko Takahashi • Noriko Takao • Ayano Takeda • Naoko Yamada • Reiko Yoshida
---
Studio Director
Yoko Hatta
What does a housewife with a flair for the artistic do in 1980s Japan when she finds herself with a bit of spare time? Why, she founds one of the most iconic animation studios of all time, of course! Yoko Hatta is that housewife and Kyoto Animation, or KyoAni, the studio. What started out in 1981 as a collective of housewives hand-painting animation cels for productions by Pierrot and Tatsunoko Pro, soon became successful enough to warrant Yoko Hatta inviting her husband, businessman Hideaki Hatta, to help her turn her side hustle into a full-fledged independent studio. Being a wise man, he saw the potential of his wife's plan and has served as the president since 1985. Yoko Hatta remains the head of operations, overseeing the studio's productions. Thirty-five years and some of the biggest series in anime later (Violet Evergarden, Sound! Euphonium, K-On!, A Silent Voice, Hyouka, Free, Clannad, oh and a little something called The Melancholy of Haruhi Suzumiya, to name a few), KyoAni now boasts two locations and an affiliate company, Animation Do, as well as a reputation for being one of—if not the—best anime studio to work for. The Hattas have retained the humane, family feel of those early days where the company consisted of friends and neighbors working at home. They provide childcare, tuition for young artists, and any manner of progressive support initiatives the likes of which are tragically absent from much of the industry. KyoAni and the Hattas have also trained and promoted more women animators and writers up the ranks than any other studio, giving directors Naoko Yamada, Noriko Takao, and Hiroko Utsumi, for instance, their starts in the industry. (For an in-depth look at the fascinating history and vision of KyoAni, check out kViN's article over on SakugaBlog.)
claire: It goes without saying that I am a diehard fan of KyoAni. The productions are not simply beautiful, with a distinctiveness recognizable anywhere; they are also remarkable for their emotional depth, attention to detail, and stunningly consistent, high quality. But what draws me most to KyoAni is the ethos underpinning the studio: the vision that the Hattas share of treating the workplace like a family, creating a safe and inviting environment for young talent, and demonstrating their value for their employees in ways that cost financially and so speak volumes. In my books, Yoko Hatta is an absolute boss.
twwk: Work long enough, and you realize that innovation in the workplace is a scarce thing. Managers and owners and executives may not always understand the concept that just because something has always been done a certain way doesn't mean it has to be this way—or that it can't be done better. Thus, it's particularly notable how Hatta co-founded the company and how she and her husband choose to run it, especially in a day and age where competing studios are dealing with the fallout of working their animators too hard and for too little money. But all this might not matter if KyoAni wasn't also at the top of the anime production pyramid (for my money) or very near it. You can do it the right way and "win." Clannad, Nichijou, Violet Evergarden, A Silent Voice, and The Disappearance of Haruhi Suzumiya show this to be true. And hopefully, the next generation of executives running anime companies see this concept, emulate it, and become more like Yoko Hatta—they and their staff will likely be the better off for it, and so, too, will we viewers.
JeskaiAngel: I didn't know anything about KyoAni's good reputation for humane treatment of its employees, but I think it's awesome. What I did know is that Violet Evergarden is one of the most beautiful anime I've seen. The story is full of sad, tragic moments that should make the series a real downer, and yet somehow the incredible beauty in both the visuals and characters themselves rises up and triumph over the darkness. I'm glad to know a little more about who was responsible for the show's creation. It seems fitting that someone like Hatta oversaw the creation of such a lovely anime.
---
Directors
Atsuko Ishizuka
Atsuko Ishizuka didn't start out aiming for a career in anime. Instead, she was interested in graphic arts and music, attending the Aichi Prefecture University of the Arts to focus on the former, and choosing to create animated videos as a way of combining her two interests. As a student, she made a number of animated films for her own enjoyment, some of which caught the eye of studio Madhouse, who hired her as a production assistant. Her first notable work was Tsuki no Waltz (2004), and from there she continued to climb up the ranks of Madhouse, taking on roles of increasing importance like assistant director for NANA (2006) and her first TV anime director role for Aoi Bungaku (2009). Her directorial work gained greater recognition in 2013-14 as she led adaptations of HaNaMaYaTa, No Game No Life, and The Pet Girl of Sakurasou. In 2018, she took on her biggest work yet: an original anime called A Place Further Than the Universe, which quickly became a critical success and established her as one of anime's great female directors.
stardf29: The triple combo of The Pet Girl of Sakurasou, No Game No Life, and HaNaYaMaTa was one of the most fascinating parts of what I consider my formative years as an anime fan. The first was way better than its title made it sound and was an incredible drama about both relationships and the struggles of art and creation, and those same elements would apply to the last one in a more cute-girls-doing-cute-things format that also worked extremely well. And while the source material for No Game No Life would ultimately keep it from being quite at the level of the other two, Ishizuka did an impressive job leading the visual direction to make the most of its strengths. Of course, this would ultimately lead to her true masterpiece: A Place Further Than the Universe. The folks below pretty much say everything I could say about it, but yeah, the way she applied everything she had done in her adaptations to her direction of this original work was nothing short of amazing.
twwk: My knowledge of Ishizuka's work is limited—I've seen only a few episodes each of the anime she took the lead in directing; that is, until A Place Further Than the Universe. That series was all I needed to become a fan. You can make a cute show, you can make a cute, heartfelt show, and you can make a cute, heartfelt show that makes you cry—but one that does all that while making you think of your own mortality, challenging you to overcome obstacles small and large, while also featuring breathtaking animation and a number of iconic scenes? Perhaps it was this near-impossible combination that led the New York Times, of all periodicals, to name the series as one of the best TV shows of 2018.
claire: Like twwk, my gateway to Ishizuka fandom was A Place Further Than the Universe. But not only that, Ishizuka's charming homily on friendship, loss, and the persistence of life even in the most barren of circumstances was actually my gateway to anime fandom. It was the second anime series I ever watched, and while the first one intrigued me (Boogiepop and Others), A Place Further Than the Universe won my heart and convinced me that it would be worth taking some time to explore this new medium for a little while. Three years later, I'm still here, loving every minute of it. (Also, I can now appreciate the posters advertising No Game No Life hanging on the wall in Hina's combini. I'll be looking for Takako Kobuchizawa's book to show up on a coffee table or shelf in Ishizuka's next series for sure!)
JeskaiAngel: Ditto the others about the greatness of A Place Further Than the Universe. Ishizuka led the creation of a wondrous tale of friendship and adventure. With The Pet Girl of Sakurasou, though lacking the adventurous vibes of Universe, Ishizuka has likewise given us a heartwarming story of relationships, one that shows both human brokenness and the potential for love to overcome that brokenness. I also know I enjoyed HaNaMaYaTa, and together with Universe and Pet Girl, it adds to a pattern of excellence that strongly validates Ishizuka's reputation for directorial skill.
---
Noriko Takao
Noriko Takao is a woman of many hats. She got her start in animation at KyoAni, working as an in-betweener on InuYasha in 2000 (alongside fellow newbie Naoko Yamada). From there, she quickly gained experience as a storyboarder and episode director on such series as The Melancholy of Haruhi Suzumiya, CLANNAD, and K-On! The moody atmosphere of the visuals in The Disappearance of Haruhi Suzumiya was her work, resulting from her immersive approach to the source material, which she sought to translate onto the screen through the visual languages of color design, lighting, and scenery. In 2011, Takao decided to go freelance and left KyoAni to head up The iDOLM@STER at A-1 Pictures alongside fellow freelancer, Atsushi Nishigori, with whom she collaborated on everything from series direction to storyboards, production to key animation. The great success of this project led to her taking the directorial helm for the follow-up series, The iDOLM@STER Cinderella Girls as well, but not before earning her chops in series composition for a couple of iDOLM@STER films. With all these skills under her belt, there's no telling where Takao will go next!
stardf29: So when we were noting female creators in the anime industry and I saw this name and what she had done, I had to give her a mention here. Her contributions to KyoAni works are great, but what she did for The iDOLM@STER in those two anime series was incredible, and easily made me a fan of the franchise overall. I especially have to highlight her work on Cinderella Girls, which did lead to some disagreements with fans over her choices, but I think ultimately created a far better product. Also, adapting Cinderella Girls at all is an insanely difficult task, given that that spinoff had over 180 characters in it, and even just limiting it to ones that are voiced and thus considered "more popular" leaves over 30 characters with unique personalities to try to make some kind of coherent storyline out of. Obviously, this would ultimately lead to certain characters being focused on over others, but overall, the fact that Takao managed to take this franchise and bring out such a great story is nothing short of M@GIC.
---
Naoko Yamada
Painter, film buff, accidental animator—Naoko Yamada is all these things. She also became one of the youngest directors in the industry in 2008 (aged 23) when she took the lead on a little KyoAni slice-of-life series known as K-On! What she did with this seemingly simple, at-risk-of-being-clichéd comedy is a testament to both her vision and her cinematic sensibilities (something I've raved about before), as she turned it into a work at once amusing and relaxing (as is required of the genre), but also one that resonates with the emotional depth and subtlety that would become her trademarks. In the years and projects since then—including such masterpieces as A Silent Voice, Liz & the Blue Bird, and this year's The Heike Story—her work has only become more profound. It is also increasingly experimental both visually and sonically as Yamada playfully ignores the bounds of convention in genre and form. As Ian Wang eloquently pointed out, a love confession in a Yamada work is never quite as simple as a confession of love. It is this kind of nuance and understatement, combined with the film-like cinematography of her direction that makes Yamada one of the greats, not just in anime direction, but in film-making more generally. Now, I wonder when the Oscars will realize this?
claire: I may have already given myself away here, but Yamada is hands-down my favorite anime director, and one of my top film directors as well. She has found in Reiko Yoshida (writer) and Kensuke Ushio (composer) an absolute dream team, and each of their collaborations impresses me more than the last. The attention to detail is ridiculous. For instance, the flowers that show up in Yamada's backgrounds and blurry foregrounds all bear meaning for the characters and story. More than any other director, I have rewatched the works of Yamada over and over again, finding greater meaning and deeper tenderness on each viewing, as her work practically vibrates with humanity. The Heike Story in particular surpassed even my considerably high expectations and has found a permanent home in my heart.
twwk: The comment above inferring that Yamada deserves an Academy Award isn't hyperbole—her works are high art, creative and well-crafted, beautifully animated, but still accessible. In A Silent Voice, she is able to condense an entire manga series into a two-hour film while keeping the complex relationships in place, as well as the complicated results of bullying on the two protagonists. The Heike Story, meanwhile, is an epic retelling of a famous Japanese work regarding families and events of worldwide significance, and yet she makes it personal and interesting, sad and nostalgic, beautiful and heart-rending. It was quite possibly the best anime of 2021. But what else should we expect of a master like Naoko Yamada?
---
Mangaka
Kozue Amano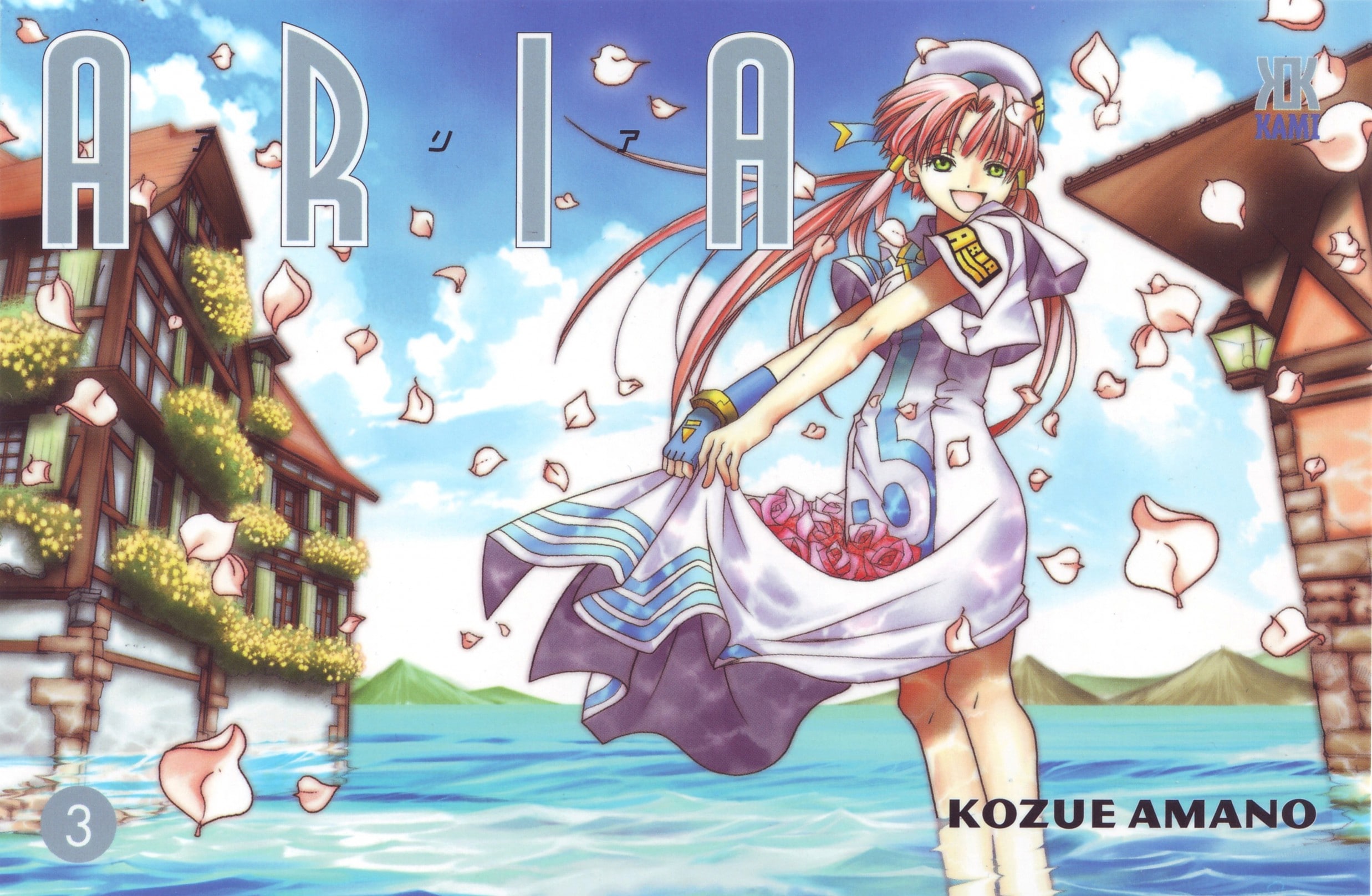 "The world appears wonderful in the eyes of wonderful people." Though this line is spoken by one of her characters, we may just as well attribute it to mangaka Kozue Amano herself. This urge to recognize the beauty hidden in the small habits and gestures of everyday life is the heartbeat pulsing through the body of Amano's work, which includes titles such as Amanchu!, Aqua, and her most beloved series, Aria.
Atelier Gokujou: Aria exemplifies the type of work that evolved straight out of shoujo. It has many of the sensibilities of shoujo manga in its laid back storytelling and focus on interpersonal relationships, but also manages to introduce a few spoonfuls of sci-fi, producing a flavor completely unique to Amano's work. There is no centralized conflict, in a way reminiscent of real life: there are days when only small things happen, and others where we are faced with challenges, introspection, the mundane, and the extraordinary. In many ways, Aria exemplifies this desire to slow down, to step back and appreciate the world. The main character is fascinated by what seems to others trivial, in a way that invites the viewer to see what she finds so special. It is a form of storytelling we often do not come across, in which the audience is invited to relax and have a pleasant experience. It is something I find we could all use a bit more of, and certainly, something that serves as a reminder that art can be ephemeral and beautiful without being purposeless.
stardf29: What even is there to say about the mangaka behind my favorite anime series of all time? While the anime adaptation of ARIA is ultimately the peak form of this story, the anime is only as incredible as it is because the original manga was already wonderful. Between the fascinating setting of Neo Venezia, the overall calming mood of the story, the great characters, and even a bit of the supernatural, it is truly a unique work. And for that matter, Amanchu was pretty darn good too, especially when it really got into the appeal of scuba diving. And apparently, Amano is working on a new series now, which I'm definitely looking forward to!
---
CLAMP
When your group is the top hit on Google ahead of a 2,500-year-old common tool of the same name, you know you've done something right. That's the kind of impact that all-female manga group, CLAMP, has had on the medium and contemporary culture. Forming in the mid-1980s and originally consisting of eleven members, the group whittled down to the four that have been the primary creators since the early 1990s: screenwriter and leader, Nanase Ohkawa, and artists Mokona, Tsubaki Nekoi, and Satsuki Igarashi. While most known for Cardcaptor Sakura, their works before and after have achieved enormous popularity in Japan and the rest of the world, and include RG Veda, Tokyo Babylon, Magic Knight Rayearth, Chobits, and xxxHOLIC.
Twwk: Because CLAMP has focused more on collaborations and anime in recent years, younger manga fans or those newer to the medium may not be familiar with this super group. But they were queens to previous generations—the Beatles of manga in their time. For those of us who grew up on anime from the 90s into the early 2000s, you couldn't help but have your tastes and expectations formed by CLAMP, whose work fed not only Japanese fans and future artists, but American audiences as well as virtually all of their works found their way to the U.S. Cardcaptor Sakura is a natural place to start for me, as the Americanized and much maligned version (though I treasure it personally), Cardcaptors, was among the first anime series I watched regularly, while perhaps lesser loved works by them are also among my favorites, including the anime adaptation of Angelic Layer and Shirahime-Syo: Snow Goddess Tales, a collection of lovely, spooky stories. Beyond that, the group's art style, themes, and popularity set a tone for the entirety of fandom for a decade, one that was open, accepting, cute, and colored by sweet love stories and pastel colors. Though their works are sometimes violent and fanservice-y, there's a sense of nostalgia and warmth that permeates their works as a whole, rendering them, like Miyazaki, a beloved group of creators for the entire anime and manga industry.
Atelier Gokujou: CLAMP's work had a huge influence on me. It is odd too, because I got into their work somewhat backwards, through their darker materials such as X and Tokyo Babylon, before coming across their more popular works such as Cardcaptor Sakura. It fascinated me how they took such dark subject matter and managed to handle it in a such delicate way. Depending on who you ask, each person has their favorite CLAMP manga, which I think is indicative of the great differences between their work over the years. Part of this was also due to their desire to go from making work primarily for young females, into wanting to make work that also would appeal to a male audience. To that end, we got things like Magical Girl Rayearth, which was magical girls but with magical mechs mixed in! We also see works like X which revolve around an apocalyptic themes, and xxxHOLIC, which explores themes of addiction through mysticism and a supernatural setting. Truly a unique and innovative group whose work had a profound influence on manga as a whole.
stardf29: Cardcaptor Sakura. That series was one of the critical series that kickstarted my entire interest in anime and manga. It was such a fascinating combination of magic and relationships, and it remains one of my favorite anime and manga series to this day. So yeah, CLAMP is pretty big for me, even if just for that one series alone.
---
Posuka Demizu
Posuka Demizu is an illustrator and manga artist who is well-known for partnering with author Kaiu Shirai for the shonen manga series The Promised Neverland. Starting off her career in 2008 with a miniseries for Corocoro magazine, Demizu then created the manga for the Oreca Monster Bouken Retsuden game in the same magazine in 2013. She has also been involved in other well-known projects such as Pokemon, The Pet Girl of Sakurasou, LINE, Dune, and the sequel oneshot to Hirohiko Araki's Cool Shock B.T. with NisiOisiN. The drawings in Demizu's portfolio bear underlying similarities that have basically become her signature style over time: complex and gorgeous backgrounds, cute character designs that are sometimes juxtaposed with scarier, monstrous ones, a limited color palette that she uses to her advantage, and an occasional use of the fish-eye perspective. These characteristics have been integral in capturing the unique tone and aesthetic of TPN, and have cemented Demizu's renown as an illustrator on Twitter and Instagram.
thathilomgirl: It's very hard for me to really express in words how much appreciation I gained for Demizu and her art since I started reading TPN. From the way she manages to make characters look unique, to the way she emphasizes mood with thrilling moments, to her effective synergy with Shirai and their editor—her involvement has certainly enhanced the story of the manga. Even with her original illustrations and characters, it feels like there's always a story behind every one of them, just waiting to be told. Finally, I also really like how enthusiastic she tends to be whenever she posts on Twitter, from her posts of birthday art for the TPN characters, to the way she starts each night with her usual "こんばんワンダホ~~~!to everyone."
Gaheret: When I started reading The Promised Neverland manga, after having watched the first season of the anime, I had my doubts. How well would the series work without the vivid contrasts between white and red, Emma's orange hair or Isabella's violet eyes? I started reading thinking of coloring the pages with my imagination, and perhaps adding the music. A few minutes in, though, I suddenly forgot I was even reading. The vivid details, the expressive faces, the mystery, the danger and the wonder in TPN are beautifully conveyed through its visuals, and the story is so much better for it. Everything speaks to a close, enriching artistic collaboration. I'm very, very grateful to the illustrator of this masterpiece.
---
Yoko Kamio
Yoko Kamio is the mangaka behind a number of high profile shojo series, including Merii-san no Hijitsu, Cat Street, and both series of Boys Over Flowers, which just so happens to be one of the top-selling manga series of all time with over 61 million physical tankoban volumes sold! Kamio has produced new manga continuously since she began at age 23 in 1989, until recently, when Boys Over Flowers Season 2 came to an end in 2019. This series inspired an anime as well as numerous live action adaptations in China, Japan, South Korea, Taiwan, and Thailand. In 1995, Kamio won the Shogakukan Manga Award for it as well. Check out her official website for a brief biography in her own words.
mdmrn: I picked up Boys Over Flowers in the Shonen Jump app entirely on a lark. It was a completed series and I was looking for something new to read. What I did not expect, was to be entirely engrossed in the series, and I ended up picking up the sequel series as well. These two series hit so hard on issues of classism, sexism, and forgiveness. The concepts of forgiveness and redemption resonated with me strongly and inspired a few different articles here at Beneath the Tangles. Those of Kamio's stories that I have read always include characters that feel genuine, even if a bit over the top in their sensibilities. Her art style is also gorgeous and incredibly expressive, allowing readers to see characters' emotions well before reading the text. There is a reason her work is so beloved and led to many different live action adaptations. I am still working through her whole catalog and, honestly, hope to keep reading more from her for some time to come.
---
Kazue Kato
Kazue Kato is a shonen mangaka who is most well-known as the creator of Blue Exorcist. In her early career as an artist and writer, Kato developed a number of one shots, even winning the Tenkaichi Award for Majo to Usagi to Oira. Her first ongoing series was Robo to Usakichi, which ran in 2005 and 2006. After the end of that series, Kato developed the one shot, Miyama Uguisu Yashika Jiken, that eventually inspired Blue Exorcist, which has been running in Jump Square since 2009. It is currently on hiatus as Kato develops a manga adaptation of Fuyumi Ono's Eizen Karukaya Kaiitan novel series. In addition to her work in manga, Kato was also one of the lead character designers in the Godzilla Singular Point anime series. She commonly references Kentaro Miura's Berserk as one of her primary inspirations, especially the series' memorable character interactions.
mdmrn: In 2013/2014, I had not watched anime in years. However, with a wife who was pregnant with twins and unable to sleep at night, I found myself alone in bed also unable to sleep. I started by checking out this newer anime series, Blue Exorcist, on a lark. I was instantly hooked. The style, the characters, the artwork—everything drew me in. But when I got to the ending though, I was taken aback. To put it bluntly, I did not like it. So, hearing that it was inspired by an ongoing manga series, I decided to check it out to see where it was going, and quickly dove into the manga. It is not an exaggeration to say that Blue Exorcist was my real gateway into the wide world of manga and I am so thankful for that. I am an avid manga reader to this day and Kato's art, storytelling, and characters are a huge part of that.
---
Rumiko Takahashi
Growing up, Rumiko Takahashi did not have an interest in creating manga, even though she loved to doodle. Later in life though, she enrolled in a manga school and started her career. Her first professional work, Urusei Yatsura, was published in Shonen Jump Weekly Magazine in 1978 and she would go on to create some of the most beloved titles in manga (Maison Ikkoku, Ranma ½, and InuYasha, just to name a few). She is known for her comedy and hilarious hijinks, her well-developed and lovable characters (both protagonists and antagonists), and interesting romances. Takashi is one of the wealthiest and most renowned mangaka, and has won several awards throughout her career, including a Medal of Honor from the Japanese government.
Kelsey: After I watched the anime InuYasha, I really wanted to read the manga because I loved the story so much. I sought out other titles from Takahashi because I found her stories so much fun and enjoyable to read. She includes so many different genres in her work and each one tells an interesting and unique story. I have had some of the best laughs while reading her work because her comedy is so hilarious and well-timed. Her characters are so well-written that you can't help but want to know what happens to them; whether they are the main character or a side-character, they always make an impact. Many of her works have been adapted into anime, so if you are not into reading manga, you should definitely watch the shows—you will enjoy them!
twwk: My anime history, much like that of millions (!) of others, is full of Takahashi-adapted anime. I somehow attached myself to Maison Ikkoku, a series I love so dearly for, what I thought at the time, was this perfect knack of keeping the readers dangling with a long-running almost-romance. I've come to realize it's far more than that. Although I'd read bits and pieces of her actual manga work, it's only over the past couple of years that I've started to read through the Maison Ikkoku manga, and have come to realize that yes, Takahashi excels with humor in outlandish situations and in building romance, but beneath the zaniness of her situations lies a surprising subtlety. Her characters are growing authentically as they act out in unbelievable situations. The heart is just right. That, I believe, is what the master, Takahashi, does best.
---
Kamome Shirahama
Kamome Shirahama is one of those rare types of artist who bridges worlds. Her fantasy-inspired work is remarkably realistic in its detail—from Victorian-era costuming to the flora, fauna, and secret nooks and crannies of the real world—with one foot in reality and the other, in the imaginary lands beyond the back of the wardrobe. Her work also spans geographical and cultural worlds, as she has a thriving career in both manga and American comic books. In any given month, Shirahama flits back and forth between creating her own series, Witch Hat Atelier, and providing stunning cover art to the likes of Marvel, DC, and Image Comics, producing some of the most iconic images of beloved characters from Star Wars, to the Justice League, to the Avengers, and beyond. A word of warning though: so immersive are her illustrations that once you dive into her work you are likely to drown!
Atelier Gokujou: As an art nerd, Shirahama's work on Witch Hat Atelier sits closest to my heart. Her pool of references pulls on the masters of American and European comic illustrators, from Moebius to Jim Lee. These influences in her work are both apparent, but also somehow self-aware; they are homages to these great artists, building on their style and honoring their legacy. Witch Hat Atelier is a display of Shirahama's devotion to studying the classic use of nib pens and traditional ink illustration. With this, she devises a set of characters more familiar to manga and Japanese media, to create a truly unique hybrid of traditional Western illustration and more Japanese styles. As a Japanese woman existing in the contemporary illustration space, she has achieved heights that are truly commendable. Working on some of DC's most iconic comics, such as Star Wars, Deadpool, Dr. Strange, and Jessica Jones, while also being the author and illustrator of her own manga, is truly a feat. She stands out as a woman who followed her passion, and through hard work, achieved the same level of acclaim and recognition within the industry and among her fans as some of the truly legendary comic illustrators of the past century.
---
Light Novelists
Asato Asato
As as elementary schooler, Toru Asakura (whose pen name is Asato Asato) kept a notebook of ideas for stories. Being a diligent cram school student though, she didn't have time to develop these tales at first—not until middle school, which is when she began in earnest along the path that would eventually see her create the incredibly popular light novel series, 86–Eighty-Six. After some encouraging results in a couple of writing competitions and years of hard work honing her craft, Asato's big break came in 2016 when she won the Dengeki Novel Prize with the first installment of 86. Just five years later, the series now numbers eleven volumes and is still going strong, with translations into multiple languages and well-received manga and anime adaptations. Her work is informed by a love of sci-fi horror films, mecha anime, and most of all, the sky at dusk and a search for the words to convey its beauty. By her own admission, she is only a slightly better cook than Shin.
JeskaiAngel: I had mixed feelings after viewing the first few episodes of the 86–Eighty-Six anime adaptation, but one of those feelings was curiosity about the source material. I read the first volume…and then all the others. As someone with a bit of an interest in military history, Asato's war story definitely drew me in thanks to how it takes inspiration from the World Wars and other twentieth century events. From the way San Magnolia's Gran Muir evokes France's Maginot Line, to how Giad's transition from empire to republic echoes that of Germany, I enjoy catching the various allusions to the history I've studied. I also appreciate Asato's attention to the trauma of its child soldier MCs, as well as the presence of competent adults trying to care for them. Asato's sense of humor is delightful: for example, one time the MCs meet a naval commander. He introduces himself as Captain Ishmael Ahab, but when the others try to address him as Captain Ahab, he says (paraphrased) "No, no, 'Captain Ahab' was my dad. Please, just call me Ishmael." Glorious. The rest of the cast shipping Shin and Lena can also get pretty funny. Oh, one more thing: Christianity exists in the setting (though you wouldn't know that if you've only seen the anime). It's not mentioned by name, but volume after volume, Asato piles up allusions that only make sense if the world of 86–Eighty-Six is one of those rare fictional settings with Christianity. It's become almost like a game to me, reading each new volume looking for more clues. I'm a fan.
---
Miya Kazuki
Miya Kazuki does not like world-building. But she once read a reference book on writing that stressed the importance of establishing just the right amount of detail at the outset to provide a solid foundation for the story, and so she does it. Really, really well too. Pretty appropriate for the author of Ascendance of a Bookworm, right? She takes her reference books seriously! Throughout her youth, Kazuki always enjoyed writing, but it wasn't until her daughter started kindergarten that she began to devote a little more time to it, posting her work to the Japanese user-generated novel publishing website, Shosetsuka ni Naro (literally, Let's Become a Novelist, the birthplace of such hits as My Next Life as a Villainess, Re:Zero, I've Been Killing Slimes…, Arifureta—the list goes on). After two years, her series was picked up by T.O. Books in 2015, and now it is about to reach an impressive twenty-nine volumes! Fans of the series have a lot to look forward to as translations are being released apace and the anime adaptation is prepping for its third season this Spring. If you're all caught up though, check out Kazuki's Twitter feed to tide you over in the meantime: it's full of all sorts of fascinating details. Despite her protests, she really does excel at world-building!
JeskaiAngel: As Claire said, Kazuki's world-building is fantastic, resulting in a setting that is surprisingly detailed and vivid. She gives attention to flora and fauna, social etiquette, religion, politics, history, fashion, courtship practices, music, regional traditions and folktales, business and economics, and more! Better still, she introduces it all gradually enough that it never feels overwhelming. Actually, while I thought the first volume of Ascendance of a Bookworm was enjoyable, I also found it a bit slow, and wondered where a story about kids making paper could go from there. The answer is "lots of cool places." The word "ascendance" is in the title for good reason. And despite what you might assume from reading the first volume, Kazuki occasionally writes pretty intense action sections in later volumes. Since family (of various kinds) is a central theme of the series, there are continual heartwarming (or heartbreaking!) moments to give you "the feels," as the kids these day would say. Kazuki is also incredibly funny. Much of the humor in her story stems from Myne's unrelenting quest for books, or her "odd" perspective on the world (owing to her memories of twenty-first century Japan). On top of all that, Kazuki has crafted some really interesting, satisfying plot twists. This is an exceptionally good light novel series and you should be reading it.
sleepminusminus: Yeah, JeskaiAngel's right; you're definitely missing out if you're not reading Ascendance of a Bookworm. I will add, though, that Miya Kazuki does a really good job at avoiding the "overpowered protagonist" stereotype that haunts many an isekai series. In part, it's because Myne is reincarnated as a child, but it's mostly because Myne is also a layered character with believable motivations facing genuine struggles and experiencing gradual growth throughout her journey. The ascendance of this bookworm isn't swift or simple, but because of that, each victory along the way feels that much more rewarding. I still find myself rooting for Myne all these volumes later. And that's a testament not only to the depth of Myne's character, but also to the depth of Miya Kazuki's writing.
---
Ayano Takeda
Ayano Takeda finished writing her first story while in high school. She had written constantly since elementary school, but never quite knew how to tie things up, and so would simply write "The End" about four pages in. It wasn't until she started texting her stories to a friend that she was able to break that four-page wall, producing a 1400-page epic! When she started university, Takeda determined to practice writing novels, with a target of six (!) per year, and it was one of these, written at the tender age of 19, that earned Takeda her debut as a light novelist (the abrupt ending caught the eye of the judges of the competition to which she submitted it). But it is her second book that won Takeda fame: Sound! Euphonium. Set in her hometown of Uji, Kyoto, Takeda's book was quickly picked up by KyoAni and adapted into an anime, sealing the book's fate as the first in a series (now concluded after eight novels, with a spin-off duology set in the Rikka High School marching band). Takeda never planned to follow up this work, inspired by her own time as a eupho-playing high school band member, so when it came time to figuring out why all the second years had mysteriously quit the band the year before the story begins, she was as keen to find out as were her readers and anime viewers! In this way, what Takeda doesn't write—be it endings or key background plot points—turn out to be as captivating as what she does. Now that's the sign of a masterful storyteller, right? (Check out this interview for more on Takeda's process, including her intriguing approach to characterization.)
claire: I'll confess, I haven't actually read the light novels. But for the first few years of my adventure in anime, Sound! Euphonium was my favorite series—supplanted now only by The Heike Story (because, Yamada). The interpersonal dynamics of Takeda's ensemble cast are so rich and multi-faceted as to constantly reveal hidden layers with each new installment of the franchise. It is rare for a passive MC like Kumiko Oumae to be so compelling! Kumiko's growth is one of my favorite arcs in anime because of its understatement. You have to look for it, and pay attention to the little details, the little words and gestures that she picks up from her more open, straightforward friends and makes her own as she learns to know her own heart and speak it out too. In short, this is very, very good writing.
stardf29: Having read the first volume, I have to admit that the anime is my preferred version of this story; there are various story details which the anime changed that I think make it better. That said, the anime still ultimately uses the novel as a base, and thus I have to give much credit to Takeda's original novel for the foundation it provides. Most important is how the novel presents an authentic school band setting, and conveys what it is like to try to be a dedicated musician in that environment. As it stands, Takeda's novel is a great novel, and it says something that Kyoto Animation saw the kind of potential in to inspire them to make an animated adaptation of it.
---
Screenwriters
Mari Okada
It's difficult to peg Mari Okada. Is she a screenwriter? Yes. Director? Yes. Artist? Yes, that too. She's a creator and her work is so prolific that it's very likely that she played a major role in developing one or more of your favorite anime. Entering the world of anime in earnest in the early 2000s, Okada wrote episodes of Rozen Maiden, Aria – The Natural, and Simoun, among other fare, and by the middle of the decade, shifted into series composition work, responsible for beloved series like Toradora, Black Butler, Hanasaku Iroha, The Pet Girl of Sakurasou, Nagi no Asakura, Anohana, and more. She has also worked on films, live-action as well as animated, and directed the excellent film, Maquia: When the Promised Flower Blooms. Her work is often imbued with bittersweet tones and as much sadness as joy, creating works that are unexpectedly complex and genuine, and earning the devotion of millions of anime fans worldwide.
twwk: It's so funny that Claire (below) mentions Hanasaku Iroha, A Whisker Away, and Red Garden—anime that I enjoyed but didn't love. In a way, this captures Okada's prolific nature. She's the Stephen King of the anime world, creating so much that's so good, and while not every piece is a hit for every viewer, each reaches the heart of many, and as a collective whole, her work is overwhelming. Even selecting just a few to mention is difficult. Hourou Musuko was cruel, heartfelt, gentle, and powerfully affecting; Anohana made me almost break down in every single episode—I knew Okada was going for the tears, but I was helpless to resist her schemes; Maquia is a wonderful fable and to me, the best ode to motherhood in anime, in a movie that's complex and which often leads characters on painful, realistic journeys rather than the easy ones; and Toradora was simply my favorite anime for a decade, a show that brought the medium alive to me again when I had left it, creating a cast that I found incredibly engaging but never became bored of (which I often do with romcoms with less depth) as their dialogue and actions showed great motivations and thoughts that were sometimes deeper than my own, and which also did not easily lead to clean endings. Okada challenges her characters, and she challenges us too— over and over and over again.
claire: It was Hanasaku Iroha that first made me sit up and take notice of Mari Okada. It's rare in anime to see the depiction of a family that is broken, multigenerational, and yet somehow strangely functional all the same. The wounds of rejection shared by three generations of Matsumae women, largely inflicted by one another, are on display without fanfare or melodrama, leaving room for small movements toward understanding and reconciliation to unfold, all in the fascinating world of a traditional ryokan hotel. As I was to discover, these themes of broken family, strong women, and a kind of straightforward search for wholeness weave throughout Okada's body of work, from A Whisker Away, which has the best depiction of the awkwardness and vulnerability of a step-parent-to-step-child relationship I've seen in anime, to Anthem of the Heart, in which young Naruse copes with her father's infidelity and rejection through the self-imposed selective mutism that locks her true self up in silence. And even to the elusive Red Garden, which explores what it would really be like to find yourself super-powered-up and wearing the mantle of a hero(ine). You have probably seen Okada's work already (she is that prolific), but if you haven't, do yourself a favor and check her out. You won't regret it.
stardf29: She's worked on a lot of series that I love, with some highlights being AnoHana and NagiAsu. I've seen criticisms of both being "melodramatic", but the thing is, Okada makes melodrama work. I can go to other anime for my "subtlety"; sometimes, I just want the raw emotion of the characters whacking me in the face. And boy, does Okada do that well. She's also just overall good at telling a story. With all that said, there's one other work of hers that I highly recommend: her autobiography, From Truant to Anime Screenwriter. Reading about her life experiences just makes me appreciate even more how she was able to reflect herself in her scripts.
---
Reiko Yoshida
"And the prize for most impressive (and lengthy) resume for a screenwriter in anime goes to…Reiko Yoshida!!" Seriously. Are there even any other writers working in anime?! Since the mid-1990s, Yoshida has been owning the role of anime series composition, producing adaptations and original work alike at a dizzying pace and showing no signs of slowing down anytime soon. Is slice-of-life your genre? Then you have Yoshida to thank for Non Non Biyori, Aria, Girls und Panzer, High School Fleet, and K-On! Is heartfelt emotional drama more your thing? Violet Evergarden, Blue Period, and A Silent Voice all bear the marks of her handiwork. Or perhaps you're more a fan of darkly psychological action series, like Casshern Sins, Blood+, and Ghost Hunt. Then of course, there are the historical dramas, like The Heike Story and Arte, and finally, that must-watch series for all anime fans, Shirobako, for which Yoshida penned many of the scripts. Yoshida has also worked on live-action projects and even as a mangaka, dipping into the world of magical girls with her zany creation, Tokyo Mew Mew. While serving as the go-to woman for series composition at KyoAni for a decade, Yoshida continued to lead on projects for countless other studios as well, making her the Brandon Sanderson of the anime screenwriting world.
claire: I have been watching and loving Yoshida's work for years now without even knowing it. And I suspect that you too, dear reader, may have been doing the same. I could wax lyrical about pretty much all of the series listed above, and on occasion, have done so right here on BtT. But it was her work adapting the 12th-century epic Heike monogatari that transformed me into a more intentional fan. It inspired me to read the voluminous tome for myself, and as I power through its hundreds of pages, my respect for Yoshida is skyrocketing: the decisions she and Naoko Yamada made in choosing which vignettes to adapt; the creation of protagonist Biwa to unify the themes of the story; and all the thoughtful details layered onto the original text—this is what the best in series composition is all about. Though Yoshida may deal in the plain black and white of words on a page, the result of her efforts is a work of art.
JeskaiAngel: Um, wow. I did not realize that the same writer worked on Non Non Biyori, Girls und Panzer, High School Fleet, Violet Evergarden, Arte, and Shirobako. That's kind of amazing. I can only assume that Yoshida is fond of history, since Girls und Panzer is full of real, historical tanks, High School Fleet draws on historical warships, and Arte is a period piece about Leonardo (the artist, not the ninja turtle). I love it. Also, Non Non Biyori is one of the funniest anime I've seen; indeed, while there are some anime that may rival it, I can't think of any that I'd say are funnier than NNB. Comedic genius right and left. Yoshida's work is fantastic.
stardf29: Sheesh, where do I even begin with her incredible list of works? Well, she was the scriptwriter for ARIA, for starters, taking the great original manga mentioned earlier in this post and working it into director Junichi Sato's vision for the series. Some other highlights that haven't been mentioned yet: making a surprisingly compelling story out of Castle Town Dandelion, doing a great sports anime in Yowamushi Pedal, supporting Atsuko Ishizuka on HaNaYaMaTa, and also just doing a lot of work on various "lesser" anime to make them just a bit more enjoyable.
---
Composers
Yuki Kajiura
Described as a "genre-busting Japanese composer", Yuki Kajiura is a force to be reckoned with. The facility with which she moves between genres—from jazz to rock opera, metal to gothic chorus, industrial to sweet-toned lullaby—is perfectly suited to work in television and film, and makes her one of the most adaptable contemporary composers. She is also one of the most accessible, weaving together a wide range of ethnomusical traditions as well as various languages, from English and German, to a latin-influenced language of her own creation. This unique feature of her work is a testament to her upbringing. Born in Tokyo and raised in West Germany, Kajiura spent her days listening to her father's classical music and opera collection, and came to a love of music thanks to his constant requests of her to play the piano for him. A lifetime back in Japan later, and Kajiura's compositional track record is epic, spanning such series as Puella Magi Madoka Magica (for which she formed the female rock opera group Kalafina), Fate/Zero, Demon Slayer, Sword Art Online, Mobile Suit Gundam Seed, the entire .hack// franchise, and the one that put her on the map, Noir. All this is not even including the series for which she composed the OP songs, or her work in gaming and live-action. In short, she is an OST phenom.
claire: Yuki Kajiura has a lot to do with why I'm here right now, writing about anime. Since a wee child of ten purchasing my first OST on cassette tape (remember those? and yes, strange child), I've followed film composers more closely than directors, so when I first stepped into the land of anime, I was excited to discover a whole new world of contemporary composers whom I had never encountered before. It was a veritable gold mine! And the first and most bountiful vein I struck was that of Kajiura, who immediately became the organizing logic behind my anime watch list as I set out to catch up on three or four decades of productions. She's been a guiding light ever since, and though that light has taken me to some strange places at times, it's always worth the trip.
Samuru: Kajiura's was not a name that I recognized until after I had already been enjoying her music. I don't really follow composers, so when I listen to music, I'm more of the type that says "hm, very cool! I want to hear more. Who did the music? Not sure, but it sounds great!" The anime Noir is what introduced me to her music. It was so different from other animes in its style, like the track "Romance" that has a beautiful guitar part and what sounds like an accordion. It is on my Spotify playlist to this day. That track, among others from that OST and the .hack//sign OST are what really hooked me to her music. Some of the tracks on .hack are very ethereal and make you feel like you are in a mysterious world ripe for exploration, which is what the anime was going for.
JeskaiAngel: In most anime, I find the music to be a serviceable and adequate contribution to the overall storytelling, but usually it's not especially memorable. Sword Art Online is one of the exceptions. Off the top of my head, I can think of…exactly one other anime for which I find myself humming music that's not the OP or ED. SAO's stirring themes got into my head and stayed there in a way that anime music rarely does. Maybe this is a blasphemous, but Kajiura's work on SAO reminds me of John Williams' compositions for Star Wars. The Star Wars movies would still be fun without Williams, but his music seriously elevated the films to another level. Likewise, Kajiura's music profoundly enhances the story contained in the SAO light novels and anime.
---
Yoko Kanno
Where do I even begin to talk about Yoko Kanno? Her musical work for Cowboy Bebop with her band THE SEATBELTS and other popular, though older, anime has made her memorable among fans. If you've watched Ghost In The Shell Stand Alone Complex, Wolf's Rain, Turn A Gundam, Kids On The Slope, or The Vision Of Escaflowne, you've heard her scores. Her career didn't start with anime though, since, like most people, she worked her way up after getting her start with writing music for video game company Koei. Her collaboration with her ex-husband for Please Save My Earth and The Vision Of Escaflowne catapulted Kanno to fame, and her career has flourished ever since. As the saying goes, "nowhere to go but up" and after nailing Cowboy Bebop's jazzy renditions and melancholic mood, she made anime music history.
Samuru: Kanno doesn't stick to one style, but instead makes music based on the mood and specific scenes in the anime. I love that because she recognizes the freedom of creating in various genres of music, not only in classical which she was trained in, or even jazz, which she is mostly known for. I was actually surprised that she made music for Ghost In The Shell as it sounds nothing like Cowboy Bebop or Wolf's Rain, for example. Including Kids On The Slope, these four were the ones I am most familiar with and it helped me appreciate her talent more to see how unique their sounds are.
twwk: Kanno's catalog is vast and impressive, and so important to anime history, having turned already great series into iconic ones. She's also important to my anime history. I fell in love with anime in large part because I fell in love with Kanno's music. "Yakusoku wa Iranai" and "Kiseki no Umi" are recorded indelibly in my mind, and I forever associate them with the entire genre of fantasy—they are the music of a genre I love. And "Gravity," a fully different kind of song from the previous two, is perhaps my favorite song, period. And I've only scratched the surface. I also know that this response is nothing unique: up to today, but especially for those of us who are thirty-somethings and forty-somethings, Kanno's soundtracks are a part of our very existence. She is more important than any voice actor or anime director outside of perhaps two or three for our generation—and maybe none other than Miyazaki. Her significance cannot be overstated.
---
We hope you enjoyed hanging out with us and a few our favorite women creatives. Now, let's go celebrate the day by giving some flowers (even just the digital kind) to the women who have enriched our lives!